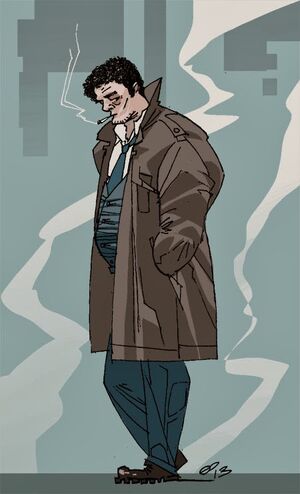 Cormoran Strike

Also known as:
Corm, Stick (by Lucy), Mystic Bob (by Anstis), Bluey (by Charlotte), Bunsen (by Shanker), Hopalong (by Robin's brother Martin), Cameron, Cameron Strick, Oggy (by his former partner Hardacre)
Age:
36
Fate:
Alive
Gender:
Male
Occupation:
Private Detective
Friends/Family:
Jonny Rokeby - Father

Leda Strike - Mother Charlotte Campbell - ex-fiancee Eight half-siblings including Al Rokeby and Lucy Jeff Whittaker - ex-stepfather Greg - Brother-in-law Jack - nephew (Lucy's son) Uncle Ted - Maternal Uncle Aunt Joan - Ted's wife Three stepmothers - Rokeby's wives)

Home:
Third floor above his office
Cormoran Blue Strike
(born 23 November, c. 1975) is the main character in the
Cormoran Strike series
by
Robert Galbraith
. After losing his leg on
Afghanistan
, he works as a private detective on
Denmark Place
, in
London
[1]
. He first appears on
The Cuckoo's Calling
, in the beginning of the series.
Biography
Edit
Early years
Edit
Born of the famous rockstar Jonny Rokeby and supergroupie Leda Strike, Cormoran had a peripatetic childhood. The constant inconsistency of his life made him yearn for a normal family and for routine[2]. Cormoran initiated a friendship with Charlie Bristow as a kid in London. The friendship ended abruptly when Charlie died of a bike accident on a quarry while holidaying in Wales. Strike had attended many schools throughout his childhood and teenage years, as a result of his mother's tendency to travel from place to place.
Cormoran's abnormal family life brought him close to Charlotte Campbell, whose family is, according to Strike, "was even madder and stranger than his own". Their relationship is a very bumpy one, especially because of Charlotte's mythomania[3].
Cormoran moved a lot during his chilhood and teens. He estimated that he attended at least 17 different schools and moved around so much that he became familiar with all the London areas. He had eight half-siblings from his parents' relationships but he seemed to be in contact with only two of them - Lucy Strike, the closest sibling to him who grew up with him. Lucy was Leda's daughter with a different man. The second sibling was Al Rokeby, his father's son with his third and current wife, Jenny Graham. Al seemed to be impressed with Cormoran's life, especially after his success in solving the Lula Landry case and the fact that he was a self-made man. Cormoran was also close to his Uncle Ted and Aunt Joan. He attributed them as the reason he managed to have a somewhat normal childhood because Uncle Ted, Leda's brother managed to intervene whenever Leda tried to get them out of school. It is shown that he maintained a good relationship with the two, as evidenced by their invitation for him to go and visit them all the time.
Strike meets Robin Ellacott on the same day he accepts to take the case of Lula Landry's apparent suicide. Strike has three siblings. The closest to him is his half-sister Lucy, his mother's daughter from another relationship. He also has a younger half-brother Al, who is his father's son with his wife, subjecting Al to a completely different upbringing than Strike (Al lives luxuriously and even attended school Switzerland). Al's looks also resembles their father, unlike Strike. Strike has another half-sibling from his mother's marriage to Whittaker, who was taken away and raised by Whittaker's well-off family, following his mother's death and Whittaker's arrest.
Appearances
Edit
References
Edit
Ad blocker interference detected!
Wikia is a free-to-use site that makes money from advertising. We have a modified experience for viewers using ad blockers

Wikia is not accessible if you've made further modifications. Remove the custom ad blocker rule(s) and the page will load as expected.